Hi!  I'm Samantha Cayto,  author of erotic romances.  My stories are pretty hot,  so please bear this in mind when browsing my site.
I'm delighted to announce that Book 1 in my new series, Red Cell Security, called Outside the Lines, is now out everywhere.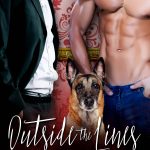 My first effort at a MM shifter series and Mpreg is out!  Books 1 (The Rogue's Omega) and 2 (Accidentally Omega) of the The Rogue Pack are available exclusively on Amazon.
Please peek at my page on Pride Publishing
and my page at Amazon .
If you would like to follow my goings-on, please go to WildWickedWeekend and subscribe to the Belle Femme Authors newsletter (under "Social Media" about halfway down the page).
I love to hear from my readers!   Just fill in the form at the bottom of the page to send me an email.