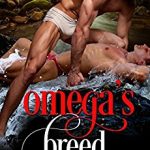 Omega's Breed – Third in the Rogue Pack series
Will is a shy, young omega who came into his heat and was forced to whelp a pup too early in life. Labelled a trouble-maker by his old alpha, he and his adorable daughter, Annie, have been shunted off to the Rogue Pack. Will has only ever known fear and abuse. He's leery of this new pack treating him and Annie any better. And, with his next heat imminent, his alpha insists he accept a mate. His choices are limited, but they include the virile beta who spirited him away.
An IED ended Declan Hunter's career as a Navy SEAL. Now, he's fighting to establish a personal security business, Red Cell. When his very first client ends up dead, Dec is determined to learn the truth and clear his reputation. The only thing getting in his way is a stubborn cop with a chip on his shoulder and the unexpected power to reawaken Dec's sexual desire.
Sergeant Ryan Jakes, a South Boston boy made good, has caught the kind of high-profile case that can either advance his career or end it. He hates private security people who get in his way, but his first encounter with Dec pushes entirely different buttons.
As Dec's and Ryan's paths cross, neither can ignore the attraction growing between them. The stakes are high, and with failure always an option, their need for each other is greater than they realize.
Heir to a Slave, Book 3 in the Pleasure Slaves series, is now available for purchase exclusively at Amazon!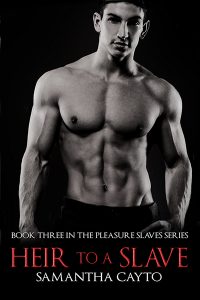 Diego didn't think he'd survive his master's brutal treatment for long. But when the man suddenly dies, his heir gives the slave boy renewed hope. His new master is everything Diego ever yearned for—handsome as sin, sexy and best of all, kind. Suddenly, being a trained pleasure slave turns from being a nightmare to a dream come true.
Jason McGill has lived a carefree and optimistic life with the one ambition of creating his art. He certainly never expected to inherit his uncle's newly-acquired wealth, including a house full of slaves. The pretty boy who is there to warm his bed, however, is easy to accept. He never expected to own a slave, but he cannot resist the lure of the hauntingly beautiful slave boy with the deeply sad eyes. Jason makes it his mission to chase that look away and replace it with a happy one.
Their tentative relationship is put to the test when Jason's free boyfriend, Kurt, arrives. Jason thinks the three of them can form a loving bond, but Kurt has other plans. To him, Diego is just a living toy, something to play with however he wants. To stay with Jason, Diego will endure anything. As tensions mount, he can only hope Jason will take off his rose-colored glasses and see the world as it really is.
The Inconvenient Pet, Book 5 in the Alien Slave Masters series, will be available in December for pre-order.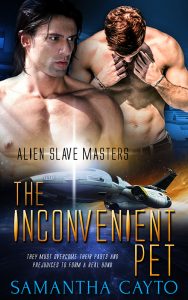 Wen, a Travian cadet on his first mission, stumbles upon a secret settlement of humans and Travians on New World Colony Seven. Affable by nature, he's still recovering emotionally from his traitorous lover's near-fatal beating. When faced with the terrible decision to put himself back in the control of a powerful male, he chooses the imposing human male who raises both his fear and his interest.
Jonathan Dax is a first generation space child from New World Colony One. Against his better judgment, he has become the liaison for the settlement. He doesn't trust Travians, including the fetching youth who kneels before him, begging to become his 'boy'. The idea of becoming anyone's master is repugnant. He hates the way Travians have claimed human boys as 'pets' and is loath to mimic their ways. Yet, he cannot deny that Wen appeals to him.
At first both Dax and Wen consider what they do in the privacy of Dax's quarters a form of duty and no more. But the intensity of the pleasure and the emotions they share is impossible to ignore. They each must overcome their pasts and prejudices to form a real bond. Within the bucolic settlement, however, sinister forces are at work, and they threaten to destroy Wen and Dax's budding relationship.
Book 4 in the Alien Slave Masters series, The Captive Pet, is available everywhere for purchase!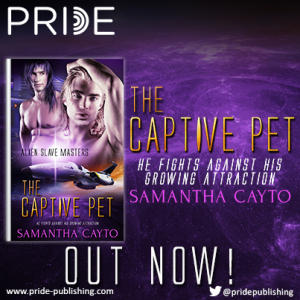 Frey Bjorkson is an orphan from New World Colony Five. While making a supply run, he's been captured by a Travian privateer and kept as a pet. Brutalized, he fights to hold on to his sanity and hope of escaping. His hopes are all but dashed when his master loses him to another, scarier male.
Having lost his mate, Rone has given up his old military ambitions. Instead, he's volunteered to pose as a privateer to root out the arms suppliers of the traitorous males trying to overthrow female rule. When he becomes the reluctant master to a human pet, he has little patience for caring for the scared, battered creature. That doesn't stop him from wanting the boy, and, as he sets about claiming the human as his property, he finds himself getting in deeper than he'd intended.
Not only does Rone prove to be kinder, he also gives Frey his first experience with sexual pleasure. The way Rone makes him feel, physically and emotionally, confuses Frey. He fights against his growing attraction even while he struggles to learn just what his master's true agenda is.
As Rone infiltrates the dangerous world of privateers, he reluctantly drags Frey in with him. He tells himself that he needs the cover of being a brutal slave owner, but there is no denying his growing need for the boy. As Rone's mission heats up, the stakes are high, and the alien master and his captive pet will have to work together to survive.
Accidentally Omega, Book 2 of The Rogue Pack, is available at Amazon!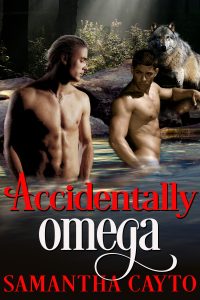 Joey grew up as a pampered omega pup. That is until his first shift confirmed him as only a workaday sigma—and a gay one at that. After being kicked out of his birth pack, his life was literally saved by the new and different Rogue Pack. While he's made peace with his status and revels in his cooking skills, he's still haunted by the abuse and rejection he faced as a teenager. When a strange malady is diagnosed as being his first heat, he cannot believe he's really an omega after all. It has to be a mistake, and he fears that when everyone realizes it, he will be ostracized once more.
Liam is one of the pack's gammas, the kind of shifter that everyone thinks is all muscle, no brain, and not much heart. When his childhood love was mated to another, he couldn't handle the loss and turned feral. The Rogue Pack has given him a new purpose, but his devotion remains with the female he left behind. He has vowed to never mate, notwithstanding his inexplicable attraction to the alluring Joey.
The pack is thrown into turmoil over Joey's sudden heat. Someone has to breed the sweet, caring boy before his body shuts down permanently. Wanting to show his gratitude to his pack, Liam volunteers for stud duty. He's determined to help even if it means putting aside his own feelings and forcing Joey to accept his new status. As much as Joey secretly desires the sexy gamma, he doesn't want the male like this, not out of obligation.
Their tumultuous relationship grows from necessity into uncertain affection. But the odds are stacked against them as they wrestle with current dangers and past hurts. If Joey doesn't accept his omega nature, and Liam can't put his old love to rest, the Rogue Pack will suffer a terrible loss.
The Rogue's Omega, Book 1 of The Rogue Pack, is available at Amazon!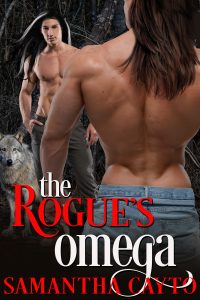 Kyle is an omega, one of the rare and precious male shifters that exist in wolf packs. Born capable of breeding like a female, he was raised in the cruel environment of his sire, Haldon's, pack. He's spent his entire short life dreading the time when he'd be expected to breed as many pups as possible. His fears are realized one night when Haldon hands him over to the frightening, yet sexy, alpha of the new Rogue Pack. A few minutes in the virile alpha's company triggers Kyle's first heat. At first, he assumes the Rogue alpha will breed him then toss him to his pack for sport. The male surprises him by taking him as his mate instead.
Having become the reluctant leader of an unusual wolf pack, Alpha Lorcan simply wants to build a settlement for his ragtag group of shifters. Each of them is either a runaway or an undeserving outcast from packs that treated them badly. They call themselves the Rogue Pack, and instead of turning dangerous and predatory, they have found a new sense of belonging under Lorcan's guidance.
Lorcan wasn't looking for a mate just yet, but the beautiful omega male thrust in front of him as part of a treaty with Haldon changes his mind. With his new lands secured, he wants to increase his pack and nothing accomplishes that quicker or better than an alpha siring pups. Although still emotionally scarred from his own sire's cruelty, he is determined to be a good alpha. Doing so by mating with Kyle allows him to mix unwanted duty with unplanned pleasure.
As Lorcan and Kyle work to form a bond as a mated pair, outside forces threaten to come between them. If their lives together are to become more than mere duty, each of them will have to overcome his painful past and learn to trust and love.
The Rebellious Pet, Book 2 of the Alien Slave Masters series, is available at Pride Publishing and at Amazon!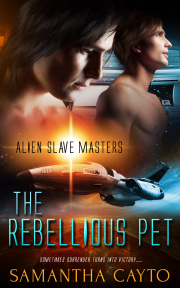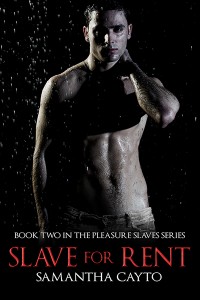 The Pleasure Slaves are back, exclusively on Amazon, September 1 with Book 2, Slave for Rent.
Danny has lived his entire eighteen years as a slave of the Tanner family. Coddled as a house slave during childhood, then sent to work in the family lumberyard, he's happy and counts himself a lucky slave. The one thing he dreams of that's missing in his life is someone to love. In his deepest fantasies, he imagines being the devoted pleasure slave of an indulgent master.
Paul Graham has built a successful construction company. His business leaves him little time for a social life, but a pretty slave boy at a lumber company has caught his attention. Middle class guys like him usually can't afford the luxury of a pleasure slave. Yet, he can't stop thinking of buying Danny for his very own and finally gives into his desire. Danny's protective master refuses to sell Danny outright, but he's willing to rent Danny to Paul on the weekends on a trial basis-so long as Danny agrees.
The chance to be a man's pleasure slave even part-time is too exciting for Danny to resist. Besides, Master Graham is hot, just the kind of man that appeals to the young slave. A doting and patient Paul sets out to teach Danny the pleasure that can be had between two men. Danny is eager to learn the lessons, except that a dark secret he keeps hidden threatens to ruin their budding relationship. Worse, there is another man who covets Danny, and he'll stop at nothing to possess him.
Internal Affair, Book 4 of the Boston's Brave series, is available on Amazon!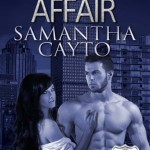 As the oldest of the Callaghan brothers, Daire held his family together when his parents were murdered. With his brothers finally grown, he is able to truly deal with his loss—and his loneliness. But he's out of practice when it comes to dating so he buries himself in his new position as police lieutenant.
Parker Li works in internal affairs. Having experienced bad cops, she strives to weed them out. Proud of her Chinese heritage and her mission, she refuses to be intimidated by the hostility she encounters. She has also put her personal life on hold, unwilling to settle down with the guy of her family's choosing.
When Parker stumbles upon the Callaghan file and reopens the case, Daire is, at first, dubious about the sexy dynamo who pushes her way into his office and his life. But while her dedication wins him over, Parker resists the temptation of the steamy lieutenant with the chip on his shoulder.
The case is cold, but heat rises as they face the growing desire between them and the danger of solving the murders.